Techo-Bloc: New Products – Available Summer 2014
Borealis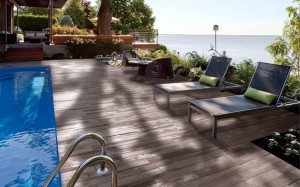 This year, Techo-Bloc is releasing an innovative new product in what is being hailed as a trompe-l'oeil by professionals within the hardscape industry – the Borealis wood-plank concrete slab. The illusion is extremely convincing both visually and texturally. Never before has concrete evoked such a sense of elegance, warmth, and comfort – nor have wood planks achieved this level of protection from our highly variable Midwestern climate. Borealis will be available in Sauvignon Oak and Hazelnut Brandy, both light-colored woods similar in tone to honey, as well as the rich-colored Smoked Pine.
Baltimore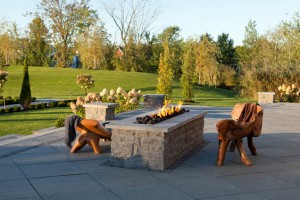 Boasting strong character and concrete durability, Baltimore is picture-perfect for multi-level pavilions and can be used for vertical features such as planters, pillars, water and fire features. This double-sided wall will allow you to enjoy the striking beauty from all sides. It will be available in Champlain Grey, Chestnut Brown, Brazilian Sand, and Brushed Pewter.
Prescott
Beautifully crafted, the chiseled face of the Prescott wall will integrate seamlessly creating a natural backyard oasis. Available in two different heights, the Prescott wall provides endless versatility for your backyard to create walls, partitions and visually interesting freestanding elements. With the effortless color combination and flexibility the Prescott wall is sure to make a statement.