XLM Tropical
XLM Tropical is a premium, PVC decking plank, engineered for maximum scratch, mildew and stain resistance, and a luxurious appearance. XLM stands up to what comes with a busy, active lifestyle: kids, pets and the perils of entertaining, such as spills and deck traffic. This PVC decking has a flat-grain surface that makes it slip resistant.  XLM Tropical PVC Decking keeps its composure – and natural good looks – through years of use.
Colors: Harbor Stone, Harvest Bronze, Rustic Bark, Walnut Grove
Flat Grain surface pattern
No pre-drilling required
No visible screws when installed with CONCEALoc® hidden fasteners
Spans a maximum 16" on-center
Available in Grooved 12′, 16′ and 20′ lengths
Available in Solid 16′ and 20′ lengths
Square edge
Flat Grain surface pattern
25-year limited warranty for residential applications
Grooved or Solid profile
Actual dimensions: 1" x 5.4"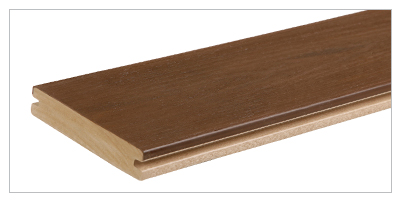 TimberTech does not recommend the use of vinyl or rubber products on any XLM deck planks. Items such as rubber-backed welcome mats, vinyl plastic swimming pools, garden hoses, planters, etc. may have a reaction that commonly occurs with PVC decking, creating a discoloration on the deck. Please refrain from leaving items with a rubber or vinyl composition stationary on XLM decking.
Depending on environmental conditions, colors may change over time as part of the natural weathering process.
Available colors